Why Australian Franchises ?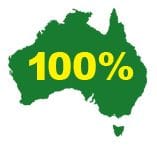 Australian Franchises is the number one source for thousands of Australians seeking franchise opportunities and businesses for sale in Australia. Hundreds of potential franchisees from all over Australia browse our directory every day in their search for the perfect business opportunity. We are proud to be 100% Australian Owned & Operated!
Getting your brand noticed is quick, easy and very affordable.
Browse our franchise business directory if you are looking to become a franchisee and own a new franchise.
Browse our NEW, one of a kind established franchise business for sale directory if you are looking at purchasing an already existing franchise that is already set up.
Search our NEW franchise supplier directory to find experts in your area that specialise in various types of franchising services.
Our franchise news section is regularly updated and all Australian Franchise advertisers can submit news articles for free. This is a quick and easy way for you to boost your lead generation!
We provide articles from our panel of franchising experts to attract potential franchisees and help them make an informed decision about investing in a franchise. Regular updates also help increase return visitors providing a greater opportunity for you to attract their business. We are always on the look out for more contributers so if you think you have what it takes, drop us a line via the contact form or call us on 07 5657 4466 during business hours. We will be happy to have a chat.
We also have a New Zealand Website if you are interested in advertising a New Zealand Franchise Opportunity.
Where we came from
Australian Franchises was created in 2008 by James Greig, the founder of the Bloomtools (web development) Franchise.
" When I decided to turn Bloomtools into a franchise I was constantly frustrated by the poor quality and high prices style="margin-left: 40px; text-align: justify; ">of the franchise directories Australia had to offer, so using Bloomtools, I decided to create my own directory- created style="margin-left: 40px; text-align: justify; ">by a franchisor for franchisors" - James Greig, 2009.
James then developed what he considered to be the best, most user friendly franchise directory on the market and offered it to franchisors to use for free! Due to James' background in Web development the website ran smoothly and started getting huge amounts of traffic due to his experience in SEO (search engine optimisation).
In 2010 the directory had climbed to the second highest SEO ranking for all relative key words and the website was receiving well over 10,000 unique visitors per month! This was when James decided to take the directory more seriously. He hired staff to run the directory and started charging the advertisers (who were more than happy to pay due to their great results in the past with the site).
Today Australian Franchises has over 200 listed franchises and has expanded its expertise to include an established franchise directory and a supplier directory with views to add a franchise recruitment directory too! Users of this new directory have been more than happy with their results and the ease of use that can't be found elsewhere.
Testimonial from the 'Sheds N Homes' Franchisor:
.... "these days, using the (Australian Franchises) site is a part of every day business for my company as it is so easy to
log in, manage the listing and view statistics. Over time this one listing has proven to be one of our main sources of lead
generation and we couldn't be happier! Our listing currently brings in one direct lead per day! These daily leads are
frequently converting into sales which has dramatically increased our revenue.
Like many business owners, marketing budgets can get tight, however, I am more than happy to spend the money
when I know it will make more money! This is the case with the Australian Franchises directory. Strongly Recommended!" - Phil